13 Apr

Reno Focus: Bed Room

The humble bedroom is the forgotten heart of every home. Yes, the kitchen may be a busy hub of activity, and the bathroom is used every day to make yourself presentable, but the bedroom is where you truly spend most of your time.

Up to one third of your life is spent sleeping, resting and recharging in your bedroom, which is the most private space in your home – the place where you are the most vulnerable, where you are the most yourself.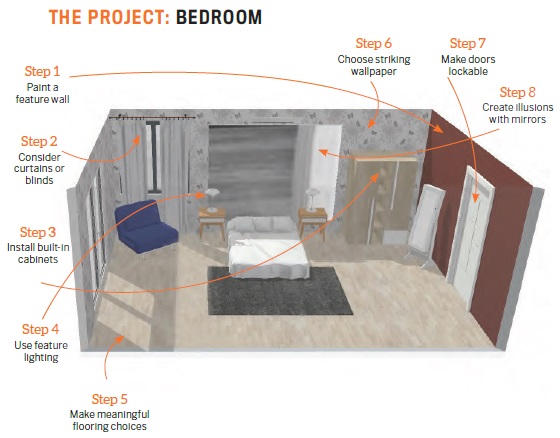 So, when renovating a property, what you do with the bedrooms needs to be well thought out. These are rooms that not only benefit from having some personality but also need to create a restful atmosphere and make you feel safe – it's as much about security as it is about aesthetics. Your valuables are typically kept in this space, so the windows and doors should not just be pretty but sturdy enough that you can sleep peacefully at night.
The best part of a bedroom renovation is that it does not usually require structural changes, so this is one project you are likely to save on when it comes to budget. Instead, it's all about creating wow factor. Often, all a bedroom needs is a decent paint job, some good lighting, and a good old- fashioned sprucing up to turn it into the ideal space.
"These are rooms that not only benefit from having some personality but also need to create a restful atmosphere and make you feel safe"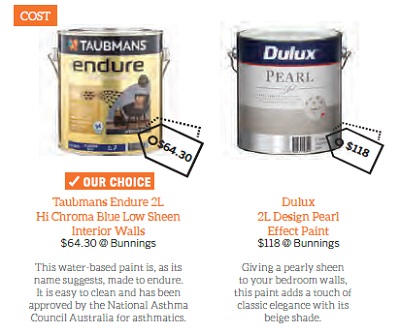 STEP ONE: PAINT A FEATURE WALL 
A feature wall is a great way to infuse a bedroom with personality and make a bold statement. It is often the central decorative element of the space and can be accentuated by framed photos, prints or other knick-knacks.
One of the easiest ways to add depth to a small room, a feature wall can create a stark contrast with the rest of the walls and keep the room from looking monochrome and closed off.
Cooling shades of blue and grey can evoke different atmospheres, ranging from dramatic to light, while warm, neutral tones, such as eggshell and beige, work with any decor.
TOP TIP
Feature walls don't need to be bright and bold to make an impact. Consider a light grey feature wall against white base walls, or a brown feature wall against beige walls, for colour schemes that add interest without being overpowering.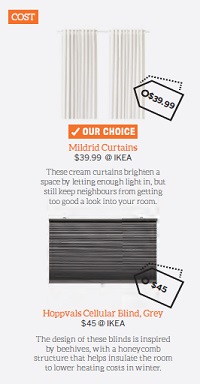 STEP TWO: CONSIDER CURTAINS OR BLINDS
The bedroom is where we sleep, so it's vital to have a good way of controlling the amount of external light that comes in each morning. Curtains or blinds serve this purpose while complementing the room's design and allowing you some privacy.
In a rental property curtains may be ideal, given the wide array of ready-to-hang products available in a wide range of colours and patterns. They are perfect for bedrooms, where blinds may allow cracks of light to penetrate. That said, blinds are also popular due to their ability to make a small room look bigger.
TOP TIP
Landlords must ensure that any blinds in their  properties are safe and compliant with the latest legislation. Fines may apply if blinds are not in line with the mandatory standard, which includes having safety devices to withstand a 7kg force applied for 10 seconds.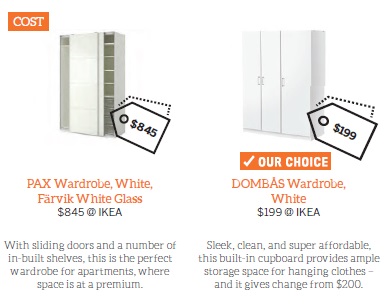 STEP THREE: INSTALL BUILT-IN CABINETS
With apartments growing in popularity in many parts of the country, homeowners are used to working with smaller rooms. But regardless of how small the space, storage is always necessary – ideally, built-in.
Built-in cabinets are a great way to make the most of your available space. Some clever designers maximise space by building cabinets into the wall behind the bed, or even under the bed. It's the ideal place to store nightclothes, bedclothes and books.
Alternatively, building a nightstand
into the wall keeps the room from looking cluttered and cramped, while adding design elements and being functional.
TOP TIP
Many renovators blanche at the thought of installing built-ins, fearing they will be too complicated and expensive. But fear not: you can purchase affordable fl atpacks from IKEA and hire trusty handymen on AirTasker to install them for you.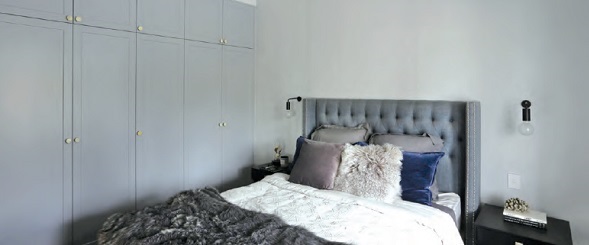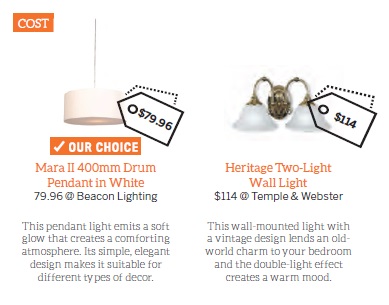 STEP FOUR: USE FEATURE LIGHTING
The right kind of electric lighting is crucial to the atmosphere you create in a bedroom. Since it's meant to be a relaxing space, you don't want bright, harsh bulbs but you also don't want the room to be so dim that it looks sad and small.
Ideally, you want the bedroom to feel cozy yet well lit, so you may want to consider wall-hung lights over the bed; these are perfect for when you're working with a small space without room for a bedside lamp. An additional central light will give you the option to flood the room with light if needed.
TOP TIP
Pop into a lighting shop and 'try before you buy' to get a feel for how different fittings light up. It's about blending form and function: the lighting should be appealing, and also allow you to read a book at night.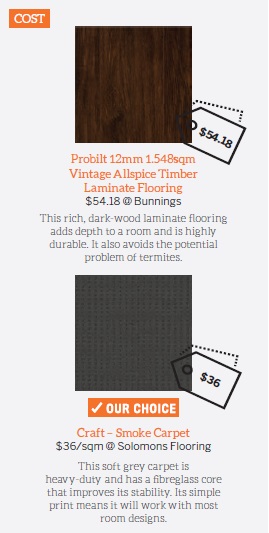 STEP FIVE: MAKE MEANINGFUL FLOORING CHOICES
The type of surface you consider for your bedroom floor may seem like an inconsequential part of the room's overall design, but when you consider the space as a whole, flooring becomes a significant factor. It complements the rest of the room's aesthetic, and also represents moving from the outer sanctum of the home to the inner sanctum. For this reason, some renovators purposefully differentiate the flooring in the public areas of a home from that used in the bedrooms.
Carpet flooring is highly favoured because it brings a sense of warmth and luxury. Wood floors are also ideal for evoking a rustic mood.
TOP TIP 
When installing carpet in a rental property, cheap and cheerful is often the best way to go. These carpets are often comprised of hardy polyester fi bres that can withstand a decade of tenants moving in and out.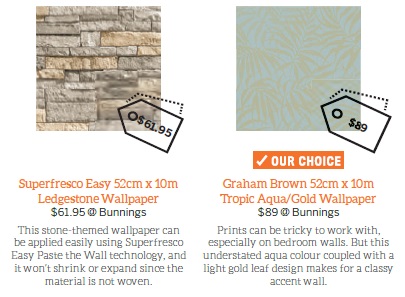 STEP SIX: CHOOSE STRIKING WALLPAPER
If paint isn't your endgame and you want to take things one step further, installing removable wallpaper is a great way to showcase an interesting style, without having to make it permanent.
The use of removable wallpaper is ideal when you're looking to rent out a property, because it helps you achieve a premium finish without spending premium dollars.
Wallpaper also allows you to play with different aesthetics, from brick-wall looks to a nature-inspired backdrop. Wood-themed wallpaper creates a warm mood and incorporates a textural element, and marble wallpaper instantly adds class.
TOP TIP
When choosing wallpaper for your feature wall, consider sticking with one theme for all bedrooms – or one pattern in the master and another matching theme in the remaining bedrooms. This helps link the spaces together and create cohesion.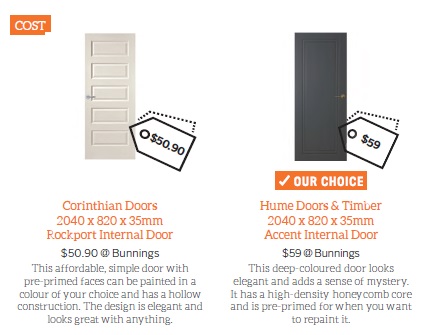 STEP SEVEN: MAKE DOORS LOCKABLE
A door is more than just a barrier between rooms – it also serves as an entrance to a private space. So you mustn't forget to up the security of a bedroom, especially in a rental property that may be a shared home.
Every bedroom should have its own lockable entry, and if your property is geared towards multiple tenants – say you're marketing it as a shared home to nurses near a hospital or students near a university – then make sure the lock comes with a key. They are inexpensive to buy, easy to fit, and add an extra measure of security.
TOP TIP
Even if you're not the handy type, locks are quite straightforward to install. If installing lockable doorknobs with keys, be sure to get an extra master key cut for each bedroom door, in case a tenant accidentally loses their key.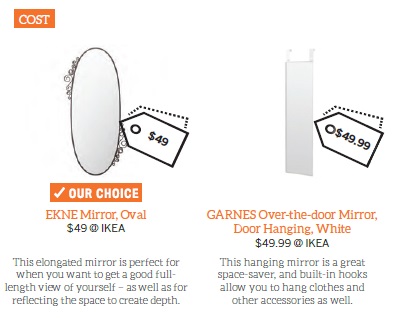 STEP EIGHT: CREATE ILLUSIONS WITH MIRRORS
Mirrors go a long way towards making a space look bigger and brighter, and when used in a bedroom they perform double duty for a much-needed last glance before walking out the door.
Depending on the space, you could reflect one wall back into the room with a large, flat mirror, or you might add a mirror to the back of the door. Some built-in cupboards also pull double duty with a mirror attached. Large mirrors hung on the wall can reflect an interesting wallpaper print across the room, though keep in mind that a removable mirror in a rental property could be a potential hazard.
TOP TIP
Installing a mirror isn't as difficult as one might think. You simply need the right tools of the trade, most of which you can collect at your local hardware store. For larger mirrors, ensure you have at least two people on hand.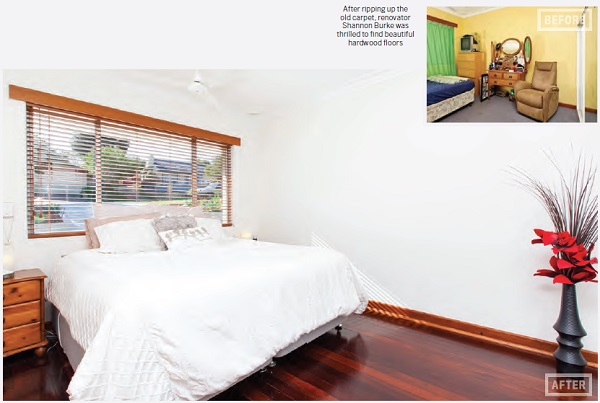 CASE STUDY
Refreshing a bedroom from drab to fab is relatively straightforward, provided you renovate with purpose
The good news about a bedroom renovation is that there is a great deal of work you can do yourself. But before you get started you need to consider the purpose of the reno. In other words, who is the bedroom for and how can you tailor it to their needs and wants?
For instance, is it going to be a children's bedroom? A nursery? A master suite or a guest room?
Renovator Shannon Burke says her first step when tackling a bedroom renovation is to picture the future resident. If it's a rental property, the end user may not be clear just yet, but even if you don't know the room's exact future use, you can still create a warm, comfortable space with a potential type of tenant in mind.
This is the approach Burke used when renovating a recent property in Perth, where a surprise discovery at the beginning of the upgrade set the scene for what was to come.
"There was no way the ugly, original carpet was staying in this renovation, but the great thing is that older homes were often built with floorboards," she said. "This meant we didn't have to replace the carpet or main flooring – in fact, all we had to do was have it repaired, sanded and varnished. It was cheaper and more desirable than putting new flooring throughout!"
If the bedroom is to be used as a nursery or children's room that will be converted further down the road into an office, then a rug can be added to warm up the space.
Next, Burke installed eco faux-wood venetians.
"They allow light through when open but obscure the view into the room, which is great for privacy, especially of bedrooms at the front of the property. However, if the bedroom is directly facing the rising sun or sunset, you may want to consider block-out roller blinds.
"My personal favourite are fabric Roman blinds – soft yet structured, they add style and interest."
Finishing touches included a fresh coat of paint, resulting in a clean, renewed space to suit all kinds of potential tenants.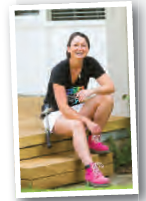 Shannon Burke
is the founder of
Perth Renovation Projex.
Originally published by: https://www.yourinvestmentpropertymag.com.au/property-renovation/reno-focus-bed-room-247632.aspx