14 Feb

Learning From Past Mistakes

AT A GLANCE

Years investing: 13

Current number of properties: 3

Portfolio value: $1.03mA forward thinker, Mathew Thompson knew at the age of 19 that he wanted to start investing in property.

"I wanted a solid asset behind me as early as I could afford it," he explains.With that mindset, he found his first property – a one-bedroom unit in Canberra – after a brief period of searching."It was in an affluent area and the price point was what I could afford," he says. "The holding deposit was only a thousand dollars at the time."

This first investment turned out to be one of Mathew's most successful, as it earned him a decent profit in just a few years.

"It made a considerable amount of money in a reasonably short time – I think I owned it for about five years – due to the fact that there was a short level supply in the area. I did really well out of that one," he explains.

Following such a great experience with this first purchase, however, Mathew crashed back down to earth with his second apartment investment. This experience gave him his first big lesson in apartment investing. "I didn't do so well – and I actually had to lose money to get out and to get back on top,"
he admits.

"I learnt that basically, if one apartment in an entire complex of 300–400 sells for less than what you'd pay for it, the remaining units will be affected by that. It's very hard to make
money in that situation."

One lesson learnt – but there were plenty more on the road ahead.

Knowledge is power
Mathew was ready to refine his strategy, so he took the time to study up on the property market on his own. Topics such as property options, market trends and renovation strategies were all on his reading list as he contemplated his next move.

"I used a lot of home study programs. I purchased a lot of stuff off eBay – it's a lot cheaper than what you'd pay going on a course! I also went to a lot of seminars, and I met some local investors that I know here in Canberra," he says.

Through this self-education, he learned to steer away from regional areas that relied on short-term economic drivers, such as mining, for growth.

"With these types of investments, you're basically relying on commodities, and if commodities slow down, that has an effect on the Australian economy. So it really cripples house prices," he says.

"Long term, you have to look at the supply and demand in that area – when there's not a lot of supply, you can make money. But when you've got an overflooded amount of supply and there's not as much demand, it's pretty hard to make a dollar out of it."

Looking at future potential is something he wishes he had prioritised earlier, and given the chance to do things differently Mathew says he would have invested specifically in welllocated, highly populated suburbs from the very start.

Instead, Mathew chose to invest in the large regional markets of Mackay and Toowoomba, in Queensland. He bought in Mackay because at the time the city appeared to be a great prospect, with predictions of strong growth. On the advice of a property advisor, he paid $440,000 for his first property in Mackay, a brand-new home that returns an average yield of just 3.3%. He followed this up with a second house investment in the same area, this time paying $420,000 for the property.

"I could have purchased in Sydney, Melbourne or Canberra and would have made more money in the same time frame as I have owned Mackay, and I probably [would have] been ready to buy again [with the equity]," he says.

"That said, the upside to Mackay at the moment is the $16bn Adani coal mine, which will inject billions into Mackay's economy."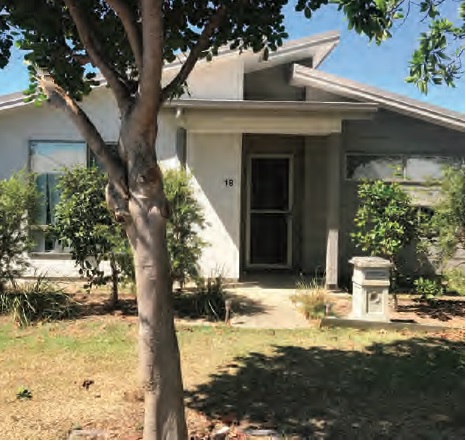 Mackay property
MATHEW'S TOP TIPS FOR NEW INVESTORS
1 Dig deeper than the main search engines
Go to different websites that offer you a filtered search, and look for deceased mortgagees, rental defaults and other bargains.
2 Educate yourself.
Continually invest in your own education, and look for unique ways to purchase property on your own terms.
3 Make sure valuations are 100% correct. 
Formal valuations give you so much insight into value and rental yield, providing you with really good leverage to negotiate.
4 Renovate!
To increase a property's value, add features (like a veranda or backyard) if you can afford to, or spruce up the existing space (such as by updating the flooring).
PORTFOLIO TIMELINE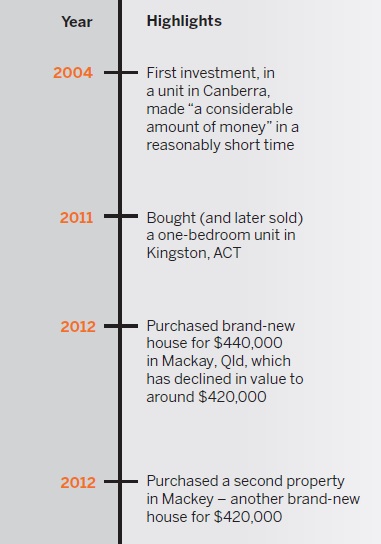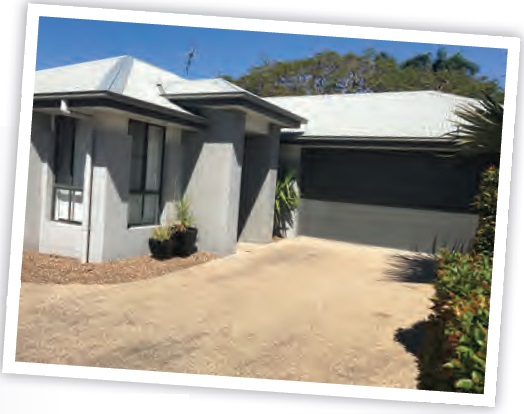 One-bedroom unit in Canberra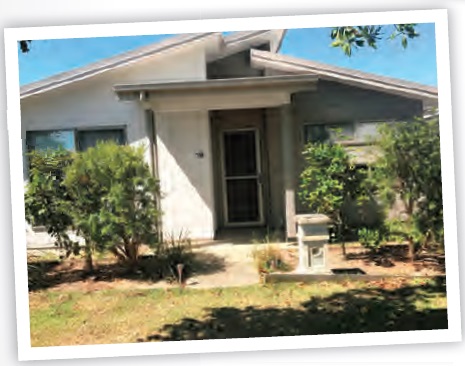 First of two houses purchased in Mackay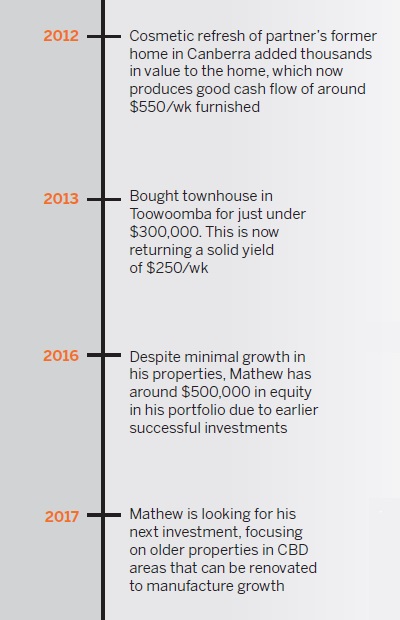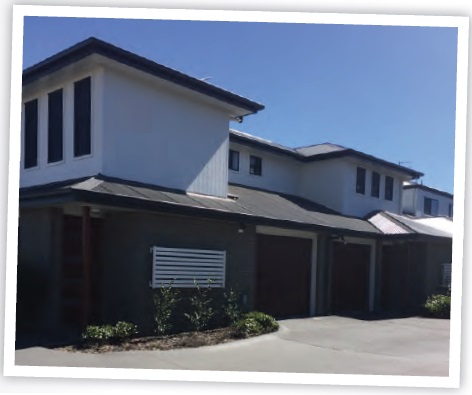 Townhouse in Toowoomba

Mathew is hoping for gradual capital growth as Mackay slowly picks up again due to the new mine, and as new train lines to the Mackay port are built, which could help boost demand and drive the economy.
Ups and downs
In addition to his own property purchases, Mathew and his partner conducted a cosmetic renovation around five years ago in Rivett, ACT. This property, which was his partner's former home, has generated solid equity and rents consistently. Mathew's most recent purchase was a townhouse, which he bought through his SMSF in Toowoomba, and this is also returning a reasonable yield.
With some mistakes made and many lessons behind him, Mathew has his eye on the future. He has recently looked into developing a townhouse with a small body corporate, or buying older properties that can be renovated to create growth. He is focusing his search on CBD areas, which he believes are the best and most risk-free option in the long run, given
the more reliable economic situation and population growth in these locations.
"I want to acquire as many properties as I can … It's what I like to do – I get a kick out of it. It gives me a buzz!"
"I wouldn't really look at doing an off-the-plan purchase. I'm more interested in getting a pre-existing residential property and renovating that so I can draw a bit of manufactured growth, rather than waiting on the economy to turn – and it might not – to gain capital growth," he explains.
"I invest where there are jobs, people, infrastructure, government spending. You follow all those things, and in the long term you are guaranteed to make money."
Mathew highlights Canberra, Sydney, Melbourne and Brisbane as markets with potential. "Perth's a little down at the moment, but most likely anywhere that's close to the CBD you can try to get in there," Mathew says.
"Gungahlin in Canberra [represents] a good opportunity as well for first-time buyers to get in, have a go at a good price point, and try to make some capital for the future."
A Canberrabased investor, Mathew hasn't been afraid to look interstate for property opportunities
Through the ups and downs of his 13-year investment journey, Mathew has gained a better understanding of the process and says the resources available to investors today make it easy to embark on self-education.
"If you're looking at a particular area and you like a particular home, Google Earth is great. Consider writing your own letter and dropping it in people's mailboxes – it's a simple way to cut out the middleman when you're trying to buy property," he adds.
And while many investors look forward to the possibility of early retirement from the rat race thanks to real estate, Mathew plans to dabble in property for several decades to come.
"I want to acquire as many properties as I can," he says. "One of my goals as an investor is early retirement, but it's a hobby as well. It's exciting. It's what I like to do – I get a kick out of it. It gives me a buzz! If I could, I'd build and develop full-time!"