11 Oct

From Shabby to Chic in $4,000

When faced with finding a tenant in Perth's tough tenancy market, investor Pat Cheah decided a renovation was in order. She put her tight budget to good use and transformed her two-bedroom apartment in Dianella from shabby to chic – and reaped the financial rewards.

For Pat, the motivation to renovate her two-bedroom investment property came down to generating appeal more than generating a profit.

"Because the Perth rental market has been so soft, I decided to do a quick reno to make it more appealing to potential tenants," she explains.
"Because the Perth rental market has been so soft, I decided to do a quick reno to make it more appealing to potential tenants"
"The property was vacant for two weeks and I used that time to plan and execute the renovation. I did as much as I could myself, such as getting the measurements and picking all the products. My dad and I did the painting throughout."
Pat, who purchased the two-bedroom apartment in 2014 for $305,000, had never embarked on a renovation before, and reveals that she was a little naïve about the costs and time involved when she first began.
It seems that old cliché that renovators should double their budget and their timeframe rang true, as Pat's strict budget did, in fact, blow out.
"My original budget was $2,000, though I must admit I was ignorant on the costs of labour. I went into it thinking I could either do most of it myself, or that it wouldn't take as long as it did," Pat says.
"Once I added labour costs, the budget doubled! Plus, I decided to paint the whole house – with the massive help of my dad, who actually did 99% of it!
"Once everything was renovated and looking so fresh, I made the decision to lay down new flooring in the bedrooms as well. Before I knew it, I was close to $4,000."
Putting study into practice
Getting her hands dirty was a strategic ploy to save money, which is common among renovators who are trying to stick to a strict budget.
Pat invested a lot of time into educating herself about the best way to proceed with her renovation, to maximise her bang for buck.
"I was focused on just doing the wet areas, so I spent many hours on YouTube researching; I learn better through visual imagery rather than a textbook, and I think renos are one of those things where you need to see it done in action to fully understand it," she says.
However, when Pat realised she needed to employ skilled tradesmen to renovate the property to a professional finish, she was happy to increase her budget to accommodate them.
"I contracted a handyman to install the IKEA cabinets and a cabinetmaker to install the benchtops. I also purchased a brand-new vanity for $50 cash and a plumber installed that for me!"
Considering this was Pat's first renovation, the results are fantastic – but they didn't come about by accident. She invested a lot of time, energy and money into her apartment refresh, in a soft property market where tenants are hard to come by.
"It's hard to measure the rental market because it's so soft at the moment in Perth. But in this current market, I don't think it hurts to do a reno to attract quality tenants," she says.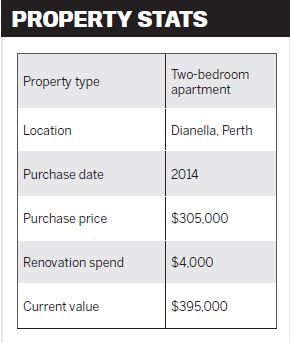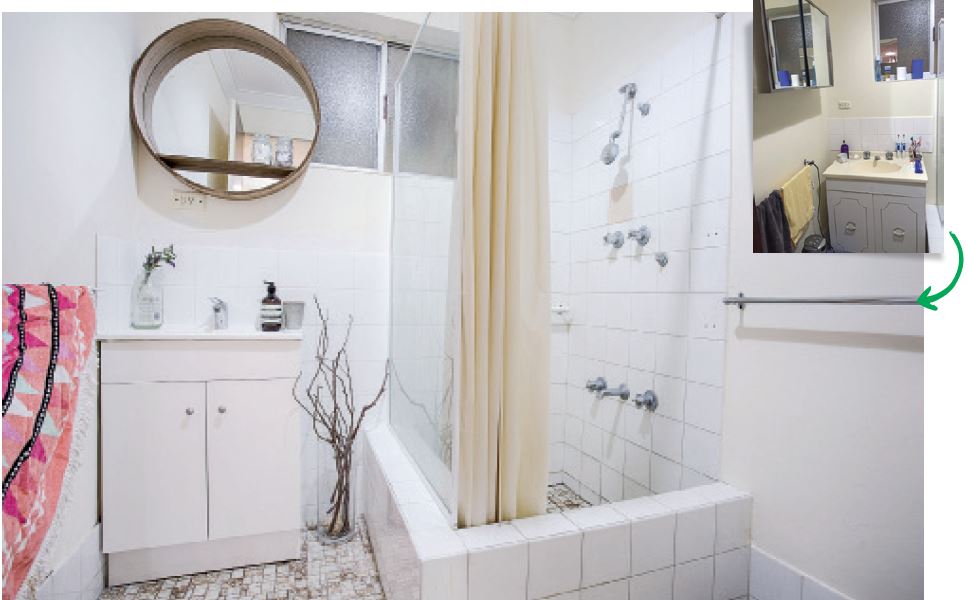 THE RULES OF A UNIT RENOVATION 
When renovating an apartment, approval from the body corporate may be required, particularly if you're embarking on structural changes. Though it can be an exhaustive process, seeking approval from the body corporate or community association is in everyone's best interest.
Not only does it give other owners a say in what is essentially a shared investment, but it also provides you with the opportunity to learn more about the structural elements of the property, which can save money on damage repairs.
For example, when making structural alterations to
an apartment, you could interfere with the plumbing or electrical network of the entire unit block, or accidentally remove a load-bearing wall that is architecturally vital to the stability and safety of the building.
Body corporate approval is relatively simple to obtain, with a written request to the committee outlining your renovation proposal and requesting permissions.
They may request further clarification or documentation, or you may have to make some adjustments to your original plan, but going through the motions is worth it in order to have a pre-approved renovation policy. Sometimes a bond may be required to cover the cost of any damage to the common property areas.
What if you don't seek body corporate approval?
The body corporate is entitled to enforce any specific by-laws, which means that if any aspects of the renovation you've undertaken were not approved, they can ask you to undo those changes.
If you refuse, they are entitled to take legal action against you.
When purchasing a property, be sure to check for proof of approval of any prior alterations that may have been undertaken. You can also request retrospective approval, which is just as valuable – but often more difficult to obtain.
The most common unit renovations that require body corporate approval are:
• knocking down internal walls
• any structural changes to layout
• changing the floor covering (as the sounds of walking above can impact noise levels for those living below)
• any changes that can be seen from another unit or part of the common property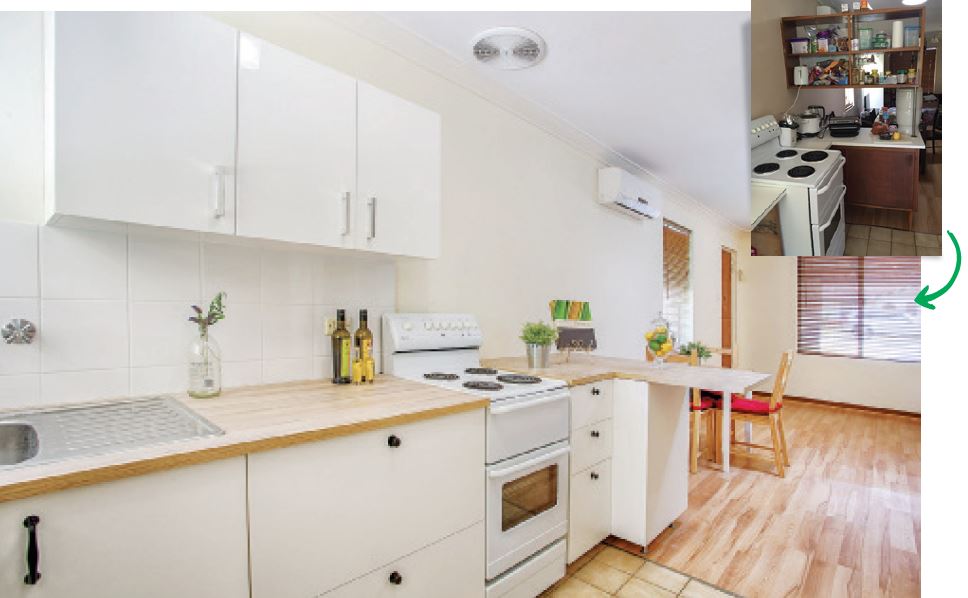 RENOVATION BREAKDOWN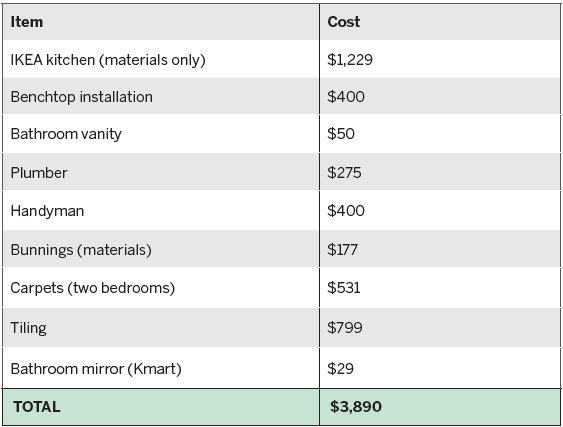 "Once I added labour costs, the budget doubled!"
Pat estimates that without the renovation, she would have struggled to find a tenant – and even if she did find someone willing to move into the property as it was, the return would have been far less.
"It rented for $270 per week, and I think without the renovation it would have achieved about $200," she says.
"I was able to completely renovate a two-bedroom home in under two weeks, for under $4,000. For the value of the property, I think it's definitely added value, and it was valued by a local agent at $399,000. It was a really thrifty project, but I'm really happy with the results."
For more articles like this, visit www.yourinvestmentpropertymag.com.au
Originally published as: http://www.yourinvestmentpropertymag.com.au/property-renovation/from-shabby-to-chic-in-4000-234250.aspx
Related posts: