04 Oct

Beach Shack Reno Turns a Six-Figure Profit

When country music singer Adam Brand found a little house on a tiny block of land in his home suburb of Palm Beach, he knew it was 'the one' – the property he could sink his teeth into to restore it to its former glory and turn a six-figure profit at the same time. Sarah Megginson reports.

It was the little house on a small block that country music singer Adam Brand jokingly referred to as "The Shack".

The tiny two-bedroom house was riddled with asbestos and in desperate need of some TLC when Adam found it – and it was exactly what he was looking for.

As a touring artist, Adam is on the road a lot. But in between gigs he found himself with quite a bit of downtime and a strong desire to find a property project to work on.

"Many years ago, I bought a couple of rental properties, did some very basic renovations where I ripped up carpets, repainted and cleaned up the yards," Adam explains.

"I found that I loved the whole process of finding something rundown that's dirty and neglected that everyone drives past and looks at the place and thinks they wouldn't go near it.
I enjoyed pouring love into it, and having people go 'Wow!' at the end result."

He hadn't yet tackled a major renovation, but with a little time on his hands between tours, "I just needed a good project to sink my teeth into," he says.

So he bought a house to renovate in his hometown on the Gold Coast.

"It was located in Palm Beach, a beachside suburb, on a very small 408sqm block. It was really a tiny little shack with two bedrooms and one bathroom that was built in the
'50s," he says.

"It's on the other side of the highway, something that will make sense to people who know the area – so it's not on the real fancy side overlooking the beach. But the first dozen avenues in the suburb are basically five minutes' walk from the cafes in Fifth, Sixth, Seventh and Eighth [Avenues], and it's so close to the water you're literally a few minutes' walk away."

Pounding the pavement in search of property

Adam approached his renovation project in a strategic manner by planning what he wanted to achieve well before he began browsing the classifieds.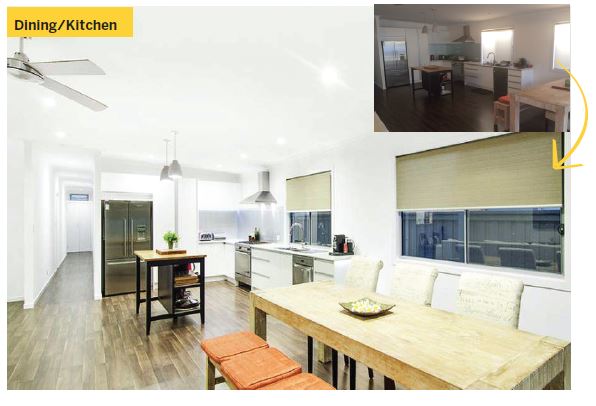 He estimates he spent around nine months renovating, but he also invested months of time in the lead-up to ensuring that he bought the right property in the first place.
"When buying a property for this type of project I knew it was important to buy in the right area and the right street," Adam says.
"I identified four streets along that whole strip of Palm Beach that I liked the look of. There were nice trees in the street, not a lot of traffic, central to the cafes, that type of thing. I just drove those streets every day that I was home and it took me about three months to find the house."
With a goal of finding the worst house in the best street, he felt like he'd struck gold when he happened upon a derelict property on First Avenue – one of his desired streets – with a fresh 'For sale' sign on Sunday afternoon.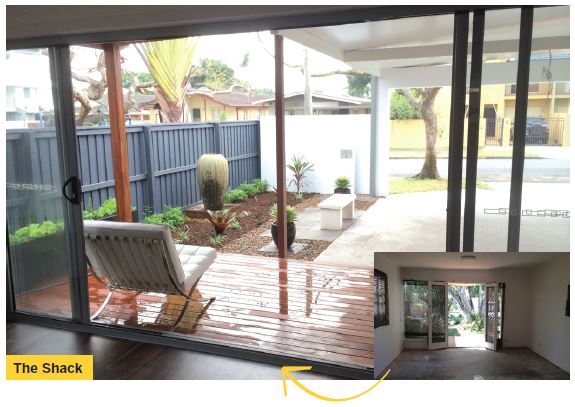 He immediately called the real estate agent, who was out playing golf and wasn't returning his calls.
"The sign wasn't there on Thursday when I left to go and do a few shows, and it was there on Sunday afternoon, so I knew it was a new listing. It fit the bill for what I wanted and I was really keen to make an offer right away, but the agent wasn't getting back to me. So I went and knocked on the door," Adam says.
"I said, 'Your agent is not getting back to me and I want your house!' When you're really sure about where you want to buy and you keep an eye on the market, then you're ready to pounce when the right opportunity comes up. It made the buying process stress-free and very fast; I don't even know if they'd signed the listing papers!"
The property was listed for $449,000, and Adam moved in with an unconditional contract for $400,000.
"I think being decisive probably helped in that negotiation, and when you go in saying 'Unconditional offer, here's a deposit', you take away all the uncertainty. It's a straightforward, safe contract."
Needless to say, the vendor said yes – and Adam settled the purchase within a matter of weeks.
Rolling up sleeves to renovate
After taking possession of the house, Adam realised the scale of the project in front of him, and he knew he couldn't do it alone.
"I don't have the tech expertise and training to do it all myself, so I needed a builder certifier, plumber, electrician and other tradies, but I was the offsider to everyone," he says.
"I had to pretty much gut it and start again. There was asbestos everywhere, so one of the first things I did was to get people in from a demo company to come and take it all out. They ripped everything up and just left some hardwood frames."
Another immediate concern was removing a "huge, big, ugly tree in the front", which had three main trunks that were wreaking havoc with the garden. Adam arranged for it to be removed on the day after the property settled.
The following morning, the first of the tradies began arriving.
"I quickly learnt that if you want to make a profit in renovating, you've got to roll your sleeves up. From my experience, you have to get in there and get your hands dirty, because that's how you're going to save money," he says.
"I had to pretty much gut it and start again. There was asbestos everywhere"
COST BREAKDOWN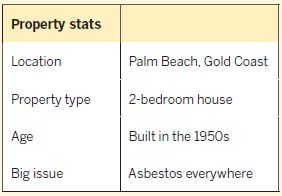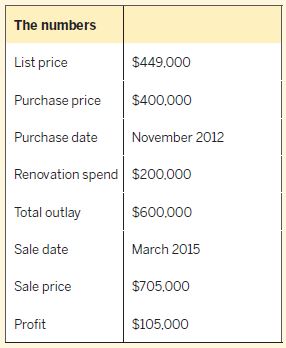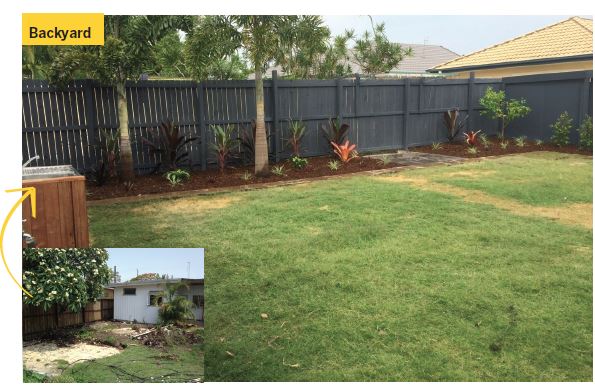 "I had released an album at the same time, and I was touring, so it was a really busy time. I would go away on tour, land back at the airport, drive back to the house, take off my jeans and jacket and cowboy's boots – then on went the work boots and off I went to get to work on my property."
For instance, when the plumber was putting new pipes in, Adam was there digging out the trenches and helping to lay them out.
"I was digging; I was chopping; I was involved in every piece of it. I just wasn't making the technical decisions," he adds.
"Every trade that came in, I saved at least one person worth of rates every day, and not only that – I probably shaved off an hour or so in productivity. Tradies usually spend the first hour setting up and the last hour packing up, but I was the one cleaning up and having them ready the next day," he says.
"It was like a dental surgery: I'd have all the offcuts in a neat pile, all the tools and equipment ready to go."

Transforming two bedrooms to three.
Adam designed and created the new floor plan for the house, which transformed the tiny 'shack' into an attractive and modern three-bedroom home. Each bedroom had its own ensuite, adding two bathrooms to the overall layout.
"Admittedly, I went in with a different mindset and I was probably a little bit too emotional about some things, because I was planning to live there for a while," he says.
"It I were doing it purely for profit, I could have made a few different choices. I had three bedrooms and every room had to have their own ensuite and a toilet for guests, for instance.
"This probably wasn't necessary and we could have included one less bathroom. But we ended up with a beautiful, modern beach house with three bedrooms and three and a half bathrooms, and it achieved a fantastic profit in the end."
Adam moved through the renovation strategically, doing the internal upgrades before moving into the property, at which point he focused on the landscaping, carports and fencing. He then lived in it for six months before renting it out while he was on tour.
He sold the property less than two and a half years after buying it, achieving a sale price of $705,000 – over $300k more than he paid for it, with a profit of $100,000 after renovation expenses.
"This was my first major project, and it was a real sense of satisfaction when it was finished. You stand back and look at it and think, there was nothing before, and now we've got this incredible property."
Now that the project is behind him, Adam admits that the renovation bug has well and truly bitten and he can't wait to do it all over again.
"I quickly learnt that if you want to make a profit in renovating, you've got to roll your sleeves up. From my experience, you have to get in there and get your hands dirty, because that's how you're going to save money"
"I didn't realise how much I was going to love it. You hear people say, 'Don't renovate – there's so much stress and pressure'. So I thought, I'll do this once and it'll sort me out and get it out of my system. But the opposite happened!" he laughs.
"I don't profess to be vastly experienced, but I know that when I see that sort of stuff it excites me. I love renovating and getting my hands dirty and I'm looking now for my next one to get stuck into."
ADAM BRAND'S TOP 3 TIPS FOR A SUCCESSFUL RENOVATION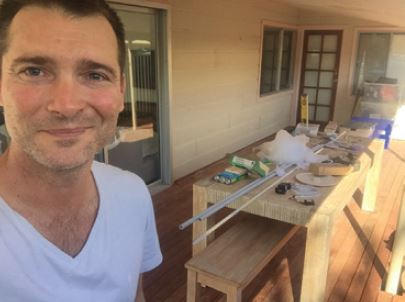 1.     Get your hands dirty
"You can save time for your tradies by cleaning up after them and having everything organised when they arrive in the morning so they're not billing you their hourly rate for these tasks. When you chip in like this, every minute they're on the job is spent actually on the job."
2.     Skimp on big brands
"You don't have to go out and spend huge bucks on the top-end brands when renovating, unless it's a high-end property. You can buy an IKEA or Bunnings kitchen and if you get the combination and colours right, with a nice stone top, it'll look like a $15,000 kitchen and it'll cost you $5,000 or $6,000. It's really about shopping around and looking at all of those products to get the best fit."
3.     Don't believe everything you hear
"There are a lot of things you hear along the way in property that other people say, and you sort of take it as gospel. One of those for me was about ants. Someone said to me, 'Don't worry – white ants won't eat hardwood frames; they only like soft wood'. I was very surprised then to discover a big section of about 5m of our hardwood frames chewed out! I asked a few other people and they said that what I had been told was right – the ants will opt for soft wood if given the chance. But if there's none of that left, they'll chew right through your hardwood anyway. There's a good lesson there – not just to listen to everyone's opinions and old wives' tales and opinions. Go and get the right ones instead!"
For more articles like this, visit www.yourinvestmentpropertymag.com.au
Originally published as: http://www.yourinvestmentpropertymag.com.au/property-renovation/beach-shack-renovation-turns-sixfigure-profit-233859.aspx